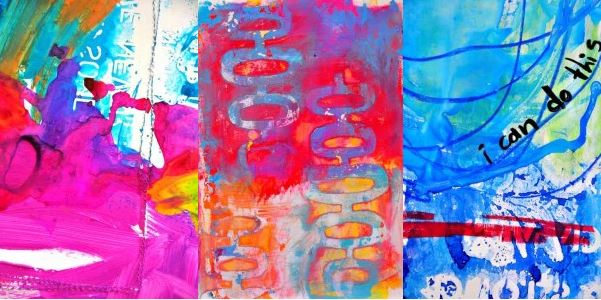 My "Art Journal Play" classes are all about exploring and playing with art journaling and mixed-media techniques. The goal is to learn techniques, experiment, play, and make finished journal pages. We'll be working in journals, but the techniques apply to all mixed-media projects (canvases, book-making, etc.).
Acrylic paint is one of the most versatile mediums you can use. Come to this painting class where you will learn how to use acrylic paint both thick (impasto) and thin (watercolor). We'll make painted papers and them incorporate them into lovely journal compositions
Due to our "guest instructor" policy, purchased spots for all workshops are transferable but payment is non-refundable. What this means: If you buy a class spot and are unable to attend, and if there is a waiting list of students that has formed, we will call students on the waitlist to try and fill your spot.  If successful we will issue you an instore credit for your registration fee.   If you are unable to attend and there is no waiting list, we will unfortunately be unable to provide refunds.