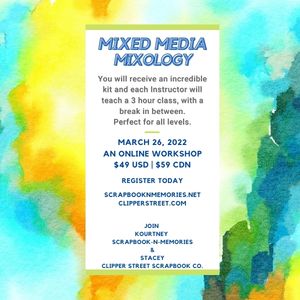 We have cooked up an amazing Mixed Media Mixology just for you!! Whether you are a seasoned artist or just beginning, this Mixed Media all day course will be perfect to get your creative juices flowing. Your class kit will be full of amazing products from the UK, including a variety of paints, a stamp, stencil, die set, inspiration book and 2 full classes that will stretch your skills and allow you to play! You will get two classes in one day—the first will be taught by Kourtney at Scrapbook-n-Memories and the second will be taught by Stacey at Clipper Street Scrapbook Company—over 6 hours of classes that you can do live (virtually) or on demand. Join us and learn techniques that are not only perfect art journaling but also cards and scrapbooking—endless options and possibilities!
This will be the first in a series of Mixed Media mash ups that we have planned for the year, so don't wait!
Designed by Stacey & Kourtney. $59
9am – 3p.m (Pacific Time)
This class is offered as a live virtual class, allowing you to participate and interact if needed as well as ask questions and follow along safely from the comfort of your home. When the video is uploaded after the live session you can return to watch over and over again. You can enjoy the class live or at whatever time suits you as the class will be available on demand.